Spotlight: Jessica Bozek
Interview by Melinda Wilson
The Bodyfeel Lexicon is a captivating and unique first collection. It is quite ambitious. How did you first conceive of it?
Thanks! In the months leading up to the first poem I wrote, I was starting to find the one-off poem simultaneously daunting (how do you start over every time?, how do you have something new to say every time?) and suspicious (but, here, I may just mean the poem with a marked turn toward resolution). Something Graham Foust said when he read at the University of Georgia (during my MFA time) about how his poems raise more questions than they answer stuck with me. I liked the idea that the poem could be a thinking-space, more than a revelation-space. It seemed natural to work with the same ideas across multiple poems. And it's truer to my nature besides – I often have trouble letting a thought go (even really annoying, nonsensical thoughts).
The book is centered around a fictitious correspondence between two lovers. You also have a chapbook with Eli Queen titled cor.re.spond.ence; correspondence or communication seems important to you. Can you elaborate on its significance in  your poetry?
 I've noticed how interactions, especially in-person interactions, have changed since the ubiquity of text messaging, Facebook, and smartphones. I'm not a Luddite, but I do sometimes miss the days when I had to make a plan and just show up somewhere at a specified time, when I was with a person and really with that person (not texting with someone else), when I ended up talking to my roommates' family and friends because I happened to answer the phone when they called. I know two phone numbers right now – my own and my husband's. I like it that my mom still memorizes phone numbers.
But how does any of this relate to poetry? I think that I use correspondence as a site of invention and attention. Wolf and Leo spin intricate fantasies for each other and make a game of long-distance communication (in the matchbook poems particularly). If they were physically together, they might just play Lexulous on their phones or sit side-by-side on the sofa, one laptop per lap.
What about the "Appendices" in the book? "Appendix C," for instance, redefines certain words. For example, "correspondence / n. Claws across the sky." How do these definitions, in particular, inform or modify the poems?
 When I read from the book, I like to preface each poem with a definition from the lexicon. So, while a listener (or reader) might associate correspondence with letters, I like to suggest something a bit more desperate and transient.
The appendices in the original manuscript were probably twice the length they are in the finished book. I'd written what were essentially journal entries for Wolf and Leopard, but everyone who read the manuscript felt that they didn't quite fit. So, most of those poems were published as part of the most recent Dusie Kollektiv, in a chapbook that Catherine Meng produced, called Other People's Emergencies. I like it that the book has so many appendages. 
The book is also filled with language and imagery that suggests transformation. For instance, in "The Leopard Transport" the speaker states, "The bone / lengthening, nose broadening. // Tell me if you are still you—not physically. Voraciously." Or from "The Leopard's Prayer": "I gave up my body / in ever-renewing bits." We spend our entire lives in the stages of transformation. Can you comment on the process or role of transformation for the speaker(s)?
Some declarations of transformation (such as Leopard's "inventory at seven months: claws, not yet retractable; sensory whiskers; night sprints; the kind of raspy cough I once found attractive in you after so many cigarettes") lighten the mood a bit. But, overall, though the book includes markers of physical transformation (including, quite literally, all the animal cell and bone images dividing the sections), I think that they function as distractions from the real, inner transformations happening – the realization that maybe, romantically, Wolf and Leo aren't right together. They cultivate an elaborate system to map intimacy even as that intimacy seems to have failed. Their tires are flat, but they pedal along anyway.
Both Wolf and Leo appear solitary, isolated from each other, from human kind and at times, from themselves. From what might this solitude stem?
Their solitude is dramatic and (over-) dramatized—of this I am guilty. But it probably stems from the crazy-making that is removing oneself from everything familiar. Historically, I flee. After my father died, at the height of my mid-twenties crisis (everyone has one of these, right?) and a sad, absurd family soap opera, I quit my job, got my very nice roommate to watch my cats, and convinced a close friend to move to Barcelona with me. I was Me, but suddenly Me had trouble with foreign keys, announced that I'd been waiting in a long asshole (culo instead of cola), served bastard cheese on salad (queso de cabrón instead of cabra), shared a room, and started to write poems again after a five-year hiatus. I was humbled all the time. I watched MTV España, could sing along to Las Ketchup, ate lots of canned tuna, played ping pong with strangers at public tables, and gave English lessons to a 42-year-old man who: had one thing in his refrigerator (cod liver oil), still asked his mother to make him sandwiches for hikes, wrapped his arms around tree trunks to feel their energy, and wanted to be able to give motivational speeches in English (this is what we worked toward in our sessions). It was all so different from my regular life in Massachusetts, where  I'd worked 9-5 as a project manager for a database publishing company and worn suits to medical society conferences in giant, freezing convention centers. Being away confirmed my sense that dislocation was crucial to seeing everything with fresh eyes. But there's an attendant sadness in realizing that I'll probably never cross paths with the amazing people I've met each time I've lived somewhere else. Of course, we continue to correspond, but it seems impossible for fleeting friendships to maintain their intensity.
Wolf and Leo share childhood memories with one another in their letters, and yet there seems to be little direct communication. In other words, their letters often do not answer or comment on the content of the previous. What function does their sharing serve?
Sharing stories with an absent other is one way of saying, "You still know me." That the letters don't quite correspond might suggest that whenever we're not with someone in person, we have to use our imaginations to fill in the gaps.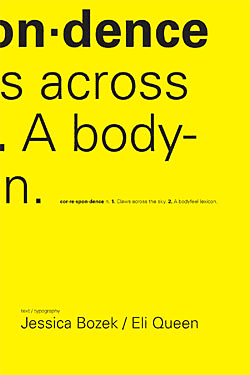 The book also seems interested in classification, definition, particularly of the self. For example, the speaker in "[BOEING 757]" states, "I've never had a problem classifying others – ." The implication is that the speaker is attempting to "classify" herself but is having difficulty. In the context of this poem, as well as in a larger sense, is "classify" synonymous with "understand" or "know"?
I would say that classification is always an attempt to understand or know. Sometimes this is dangerous. We attempt to classify what we don't understand, and classification can sell a thing or person short, at times omits more than it reveals. I continue to have trouble with "favorites" lists – I never want to settle on a single favorite or be stuck with that favorite forever. Whatever we like is just part of the story. The whole story is a myth.
The book contains many animal references, images and allusions. You also run a reading series called Small Animal Project, correct? Can you describe your fascination or relationship with animals?
I grew up with cats (liked their independence and aloofness) and had theories about dogs (or, rather, theories about how certain teenage boys exhibited canine behaviors). I believed that I must be a cat person, and I was for many years. But when my partner and his troubled little shelter dog, Ole, moved to Georgia with me, I started to perceive the world a bit differently. Ole was so attached to us and intensely loving, but he seemed to fear and need to menace just about everyone else (except the giant cockroaches that would come inside during the summer – Ole would protect those from our flip-flopped wrath by preemptively growling at us once he'd noticed one).
We tried behaviorists – one told us that if Ole had been bigger, he'd have been put to sleep already. Our last resort was the Tufts Behavioral Clinic. When I was flipping through my notebook, trying to come up with a name for the reading series, I came across the instructions given to me over the phone by the clinic. They told us to go to the Small Animal building. After Ole died, a few months later from congestive heart failure, and we adopted Clem, a sweet, well-adjusted stray, I started to think about the sadness of trying to change Ole's behavior. It was miserable not being able to have people over for fear that he would bite them or bark the entire time, but there was something so endearing about his crankiness. He had a very clear sense of how the world should be, but we didn't understand why he believed what he did. He was pretty much unfixable.
Maybe as a tribute to Ole, I thought of my favorite poems (and art in general) as what defies politeness, keeps me on my toes, refuses to behave the way I might expect, is unfixable. Now, though I grumble about having to take Clem out for hours everyday, I really appreciate the slowness that he brings to my day. I can't check my email, I can't grade papers, I can't think about anything very important while he's tugging me down the block or stopping to pee on a tuft of decorative  grass. And I know so many of my neighbors (pretty rare in Boston) end up talking to strangers because they want to say hi to Clem. The pup, for me, is an entrance into other (animal and human) communities.
The Bodyfeel Lexicon was published by Switchback Books. What initially attracted you to Switchback?
I liked the idea of an all-women's press, particularly one that's inclusive in its definition of woman. I try to read and buy as many books as possible by women writers, not because there aren't male writers I love, but because I want to support a demographic that hasn't always been supported. In a similar vein, if I go to a reading and one of the readers seems like a jerk, I'll be hesitant to spend time with his (or her) work. This doesn't happen often, but my book budget is limited, and I want to use it on artists who seem like decent human beings.
I see you also have another chapbook forthcoming from Dancing Girl Press. Can you give us a preview?
The poems in this chapbook, called Squint into the Sun, are straightforward, line-broken, love poems set in Costa Rica, where I had the amazing fortune to teach in a tiny study-abroad program at a ecological research station in the cloud forest a few springs ago. These poems were the first project that stuck after The Bodyfeel Lexicon, which I'd just finished up and started sending out when I left for Costa Rica. While I was there, I didn't write much beyond the activities I had my creative writing students do, but I spent lots of time looking and listening and marveling, squinting into the sun, I suppose. I also read a lot. I'm not sure I've ever felt healthier or that I'll ever have another opportunity to become jaded by spectacular views. I wrote these poems nearly a year after I returned – it takes me a long time to process my surroundings. Or maybe it comes back to wanting to experience moments as they happen, without too much meta-commentary. So, my life is my life, and my writing is something else, something I do beside life. 
 *
[This interview was conducted via e-mail in March/April 2010]
*
Jessica Bozek is the author of The Bodyfeel Lexicon (Switchback Books) and several chapbooks, including the forthcoming Squint into the Sun (Dancing Girl Press). Recent poems appear in Action, Yes, Artifice, Fairy Tale Review, Guernica, P-QUEUE, and Womb. Jessica runs Small Animal Project, a reading series based in Cambridge, MA.
*